Neighbor to the dunes & North Sea
100 meters from the stunning North Sea is Camping Vesterhav with 110 pitches and 6 cabins.
Here you have plenty of opportunities to get out into nature and take advantage of the fantastic opportunities that are right outside the door, whether you are into active vacations with wind sports, water sports, cycling, fishing, hiking or just pure relaxation in the dunes, on the beach or around the campfire.
At Camping Vesterhav, there's plenty of it – nature – so put your phone away and visit us in the beautiful wild west at its best!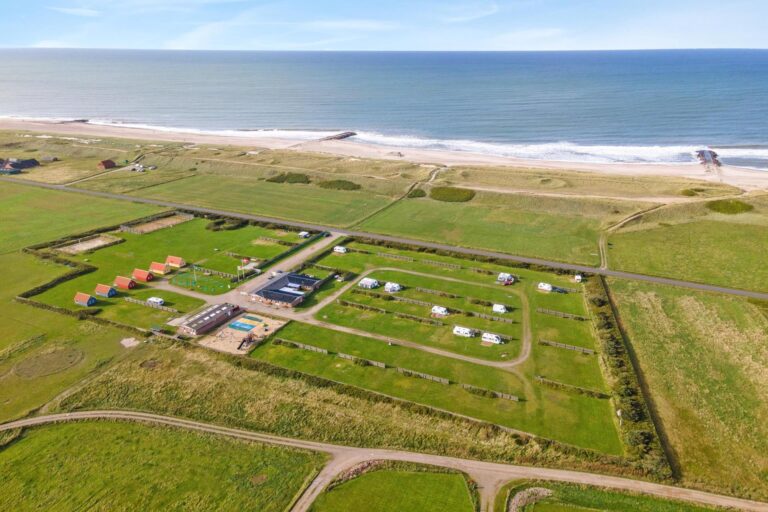 Staying on site
The camp manager and his assistants are responsible for maintaining order and are available if problems arise. The camp manager's instructions must always be followed.
Please show consideration for other campers and be aware that noisy behavior is not allowed. The campsite must be quiet between 23:00 and 07:00.
During your stay, all driving must be limited to the most necessary, and this necessary driving must always be done at a walking pace (less than 15 km/h).
Only ordinary tents and awnings for caravans may be used. Caravans must be mobile, i.e. registered for driving according to the Danish Road Traffic Act or be equipped with ID license plates.
It is permitted to set up a storage tent of approx. 3 m² according to the camp manager's instructions.
Sails normally found in the trade may be set up.
Flagpoles, antennas, etc. may not be erected, and digging on the unit site is not permitted.
The use of any kind of weapons and fireworks is prohibited on the site.
Trading on the campsite is only allowed with permission from the camp manager.
Common facilities, i.e. toilets, laundry rooms, kitchens, etc. must be left clean and tidy after use.
The waste containers provided on the campsite must always be used.
Car washing may only take place in the car wash area.
Play and ball games
Camping Vesterhav has its own playground and ball court. Help your children find the places where they are allowed to play or play ball. Ball games and violent play are not allowed between tents and caravans.
Dogs
You are allowed to bring your dog but they must be kept on a short leash. They must not make unnecessary noise and must be walked outside the site or in a designated area. Always have a plastic bag with you in case of an accident.

Arrival and departure
Arrival at the campsite/cabin from 14:00.
Departure time is 11:00.
Responsibility and liability
The campsite owner and camp manager accept no liability for damage to or loss of campers' belongings. Anyone who damages buildings, equipment or the property of fellow campers may be held liable in accordance with the general rules of compensation.
Violation of the campsite regulations may result in expulsion and, in serious cases (theft, vandalism, etc.), reporting to the police.
Nature and the environment
Show consideration and protect both nature and the environment – both are dependent on your protection.


Frequently Asked Questions